A milky appearance to the sky continues for Tuesday, as more wildfire smoke from the Canadian Wildfires filters in across New England.
In spite of that milky sky, conditions remain mostly sunny for Tuesday. A very slight chance of an orographic shower in the Green Mountains or Berkshires is possible. Highs range from the lower and middle 70s well west, to around 60 degrees along the coastline with a northeast wind.
A cold front approaches for Wednesday, and sun slowly fades to clouds throughout the day. Light rain is likely from north to south late Wednesday evening. Highs will be in the middle 70s.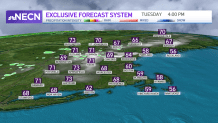 On Thursday rain and clouds quickly exit before the morning commute. Highs are much cooler with breezy conditions. Expect numbers in the lower and middle 60s.
Friday is mostly sunny, and a bit milder, highs in the upper 60s. The holiday weekend looks to start dry on Saturday. Skies will be partly cloudy with highs in the middle 70s.
Sunday could see a few scattered showers. Highs will be in the upper 70s. The early call for Memorial Day Monday, is partly cloudy, with a passing shower chance and highs in the upper 70s.