New England is entering an unsettled few days as we straddle the line between cool air to the north and milder air to the south - a dividing line called a "front" in the world of meteorology.
Near these fronts, we tend to see an increased propensity for precipitation, and that will certainly be the case Tuesday, with the frontal boundary stalled from southern Vermont to central New Hampshire and southern Maine, and rain showers consolidating to either side of it as Tuesday progresses.
This means much of southern New England ends up in milder air, with few if any showers and sun mixing with clouds, until the clouds finally win during the middle afternoon onward. Where sun breaks out, away from the coast, temperatures rise well into the 60s, while a developing sea breeze keeps the coast in the 50s.
The stalled front will move south as a cold front overnight Tuesday night, delivering a northeast wind that will both secure chilly air for Wednesday and lock in lots of clouds with occasional sprinkles, showers and pockets of drizzle.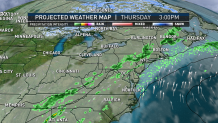 Near the South Coast, fog that develops Tuesday night may linger in pockets Wednesday, but the big impact for New England will be the chill with highs either side of 40 degrees, regionwide. Thursday has a lot of potential for warmth. The air a few thousand feet above the ground supports high temperatures well into the 70s and even lower 80s!
Reality may fall far short of that potential, however, as a relatively weak wind is predicted, and coming off the cool air of Wednesday, we really need a decent breeze this time of the year to bring warmth in.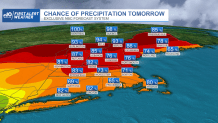 Our First Alert Team expects the result to be warmth arriving Thursday to southern New England, more stubborn near the coast, and tougher to find in central and northern New England, where showers will be more commonplace. Most of New England should see a round of Thursday p.m. rain and thunder ahead of a cold front that will deliver bright and beautiful early spring weather for the entirety of the holiday weekend, with high temperatures ranging from near 50 degrees on Good Friday to the 60s for some by Easter Sunday.
Right now, though, a chance of showers builds on Tuesday of next week, our exclusive First Alert 10-day forecast looks promising for a more extended stretch of mostly dry, pleasant spring weather to persist into next week.