Overall, New England has a relatively quiet week of weather ahead. The biggest player in the region's weather over the coming several days is a large, powerful, swirling storm over Atlantic Canada that has been the receptacle for many energetic disturbances over the past several days, including our early weekend snow, all contributing to the size and breadth of the storm over Canada.
With a counter-clockwise flow of air around that storm, this encourages a brisk northerly breeze for New England for days on end, and will increase the propensity for clouds in New England after Monday's mostly sunny sky. After Monday highs in the 40s – pushing 50 degrees in a few spots – with a northwest breeze gusting to 35-40 mph at times, creating a wind chill factor in the 30s, areas of melting on roads will turn from road spray and glare to refrozen black ice patches overnight when temperatures drop to the 20s.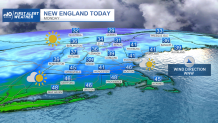 Nonetheless, a full reservoir of windshield washer fluid and sunglasses at the ready will make a good complement for any traveler in the days ahead. Admittedly, those sunglasses will get less use Tuesday through Thursday as only breaks of sun are expected between lots of bubbling clouds on the backside of the big Canadian storm, with a nippy wind chill held in the 20s Tuesday and 30s Wednesday and Thursday at the warmest time of each day.
The building clouds will likely yield scattered snow showers in northern New England each day, while central and southern New England will find raindrops and snowflakes limited to within about 40 miles of the coast on any given day, though more concentrated mixed showers are possible on Cape Cod Tuesday evening through Thursday, owing to the cool, northerly wind over the ocean water, gathering moisture along the way and providing just enough temperature contrast from ocean water temperature to air aloft for clouds to gain some enhancement.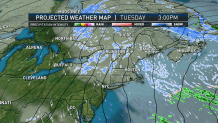 As a large dome of high pressure muscles in Friday, the big storm east of New England is ushered away and more sunshine returns, though the next storm will already be moving east across the Great Lakes. This coming weekend, that energy arrives to the Northeast and appears nearly certain to reposition around a developing storm center off the New England coast Saturday into Sunday, but questions linger as to how this repositioning evolves.
More snow possible this weekend?
A fast hand-off of energy to the newly developing storm would mean a quicker moving storm that leaves New England in relatively light accumulating snow mixed with rain as we would be positioned between the old and new storm. A slower hand-off of energy to the coast and closer-in development of the new storm would raise the stakes for a more substantial storm of rain and snow.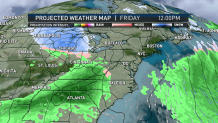 For the time being, our Weather Team holds off on placing a First Alert on the weekend, as we usually issue such alerts when impact is likely – in this case, a lighter precipitation wouldn't have high impact and that's still just as likely as a big storm. Of course, we'll keep you posted!