Friday is the final day of summer heat across the Commonwealth. Despite the clouds, we'll be marching well into the 80s under a partly sunny sky. Lots of morning clouds — and a few showers — will yield to more sunshine in the afternoon, and with the sea breeze kept at arm's length, the stage is set for a stellar beach day.
Temps take a hit on Saturday, but not to the degree you'd expect for this time of year. We still hover near 80 with a few morning clouds giving way to bright sunshine. The slightest of sea breezes could engage near the coast – especially on the North Shore and Cape Ann – but that will only cap temps in the afternoon. That cooling breeze makes Saturday less of a beach day (but still semi-worthy) than Friday.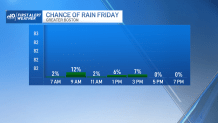 Mother's Day is another superb day with plenty of sun. We're sinking the temps a little more, however. Highs struggle to make 70 in many spots, but the odds favor towns and cities away from the coast, thanks again to an afternoon sea breeze.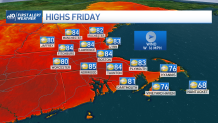 Next week sees some warmth return for Monday and Tuesday, along with the obligatory cooldown by Wednesday (a recurring one-day theme in this pattern). We're crossing our fingers for a better chance of widespread showers late in the week.
Have a great weekend, and GO CELTICS!!!