It's the warmest day of the week and we see temperatures climbing to the 80s again! In fact, parts of Connecticut may see highs in the upper 80s through the afternoon.
May 28 is the average first 70-degree day and we are enjoying highs in the 80s already!
To keep the fun facts rolling, the first average 80-degree day is June 16!!!! We're over a month away from that and we've already had three afternoons with highs in the 80s this season, a fourth one including Friday's.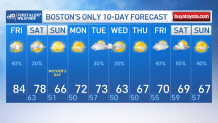 A few showers have come down Friday morning and a second isolated round may pop in the afternoon before exiting this evening. While the weekend offers another above average afternoon for Saturday, Sunday offers more seasonable values.
A cold front comes through, that helps trigger a few showers along the South Coast Saturday, followed by a drop in our temperatures for Sunday, leaving us with highs in the upper 60s on Mother's Day along sunny skies.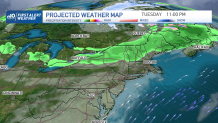 The normal high for Boston this time of year should be 65 degrees. We'll be ranging from 65 to 70 degrees throughout most of New England.
The temperature trend Sunday into next week will remain slightly above average with a chance of showers returning Tuesday. That cold front will cause a dip in temperatures for Wednesday; highs in the lower 60s for a day, rebounding to the upper 60s and 70s for the second half of next week.