A brief period of wet snow greets us early Tuesday morning as a cold front works through the area. No accumulations expected, as temperatures start the day in the middle and upper 30s.
By late morning, sun returns, and winds begin to increase from the northwest. Temperatures slowly drop into the upper 20s by later afternoon, and windchills will be in the teens.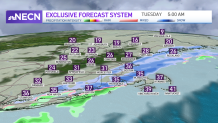 A cold night is in store for Tuesday evening. Skies are mainly clear with a breeze. Lows are in the middle teens, but windchills are closer to 0 to 5 above. Wednesday is cold and sunny, with winds relaxing a bit in the afternoon. Highs will be in the lower 30's.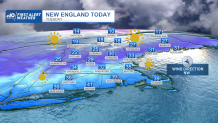 Thursday we'll go from sunshine to a mostly cloudy sky ahead of the next cold front. Highs are slightly warmer in the upper 30's. Friday, an Arctic front will pass early in the day. Temperatures start in the 20s, but drop all day long, with a strong and cold wind. Windchills will dip below zero by late afternoon, and some snow squalls are possible as the front passes.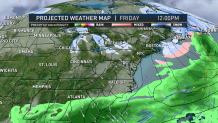 Saturday is a First Alert Day. Bitter cold, with the day starting below zero for air temperatures, windchills will be as cold as 25 degrees below zero. Despite sunshine, we only warm to high temperatures around 10. By Sunday, milder air returns, with clouds and a few snow showers or flurries. Highs are in the upper 30's.