Energy exiting the Great Lakes on Wednesday will produce rain and snow squalls, pushing east/southeast through New England overnight.
This cold front will crash temperatures to the 20s and 30s by early morning once the rain and snow exits before dawn. With the snow squalls, the wind will blow strong and visibility will be low. As the bands move further east, they will begin to weaken.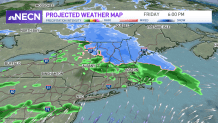 Thankfully, these will leave by Thursday morning, improving conditions by the early morning commute. Higher elevations, however, may encounter some snow in the roads where road temperatures will be near freezing.
Areas like the southern Green Mountains may see up to 3 inches of snow. The Berkshires may see up to 2 inches, while Worcester County will likely remain below an inch. Light isolated dustings may try to cover grassy areas in eastern Massachusetts, but surface temperatures will likely remain slightly milder.
Thursday will feature dry and sunny conditions, but the wind will affect the wind chill for anyone out there. Temperatures in the 20s and 30s early will rise slowly to the 40s Thursday, however, as the wind will gust over 25 mph, temperatures will feel in the 30s through the day.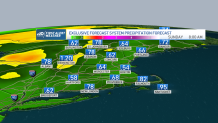 Friday will start off nice and dry, but by the afternoon, we'll see increasing clouds along with rain that will last through Saturday. As of now, rainfall accumulations seem to range around half an inch to an inch. Saturday's warm front may push in temperatures in the 50s to 60s but with the cold front Saturday night, temperatures by Sunday should cool down to the 40s again and bring drier- more comfortable conditions.