Our persistent upper level low keeps spinning around clouds and a few showers on Wednesday through the end of the work week. More showers develop in the heat of the afternoon this time.
Meanwhile: A wintry mix around Mount Washington one more time and into parts of northern Maine. Our low will move slowly into the east and out to sea by the weekend, but as it meanders for the while. Our temperatures will remain in the 50s on Wednesday and in the 40s Thursday, with a northerly wind flow which will keep us way cooler than average.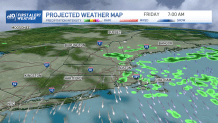 A few showers will be out and about through the afternoon Thursday with that flow our of the north. Showers on Friday, however, will mostly focus across eastern Massachusetts and temperatures will slowly crawl up to the 50s again before we transition into a milder and drier weekend.
The weekend, finally, offers a mostly dry one with temperatures back to the upper 60s. A mix of sun and clouds will take over Saturday, and Sunday is looking to be governed by sunshine.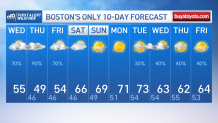 If you've been waiting for the 70s, our 10-day is in your favor. We're having temperatures climbing to the 70s one more time for the first half of next week, along dry and sunny conditions through Tuesday. Wednesday onward will likely feature slightly cooler temperatures back to the 60s — not bad for the season