Thursday brings another slightly cooler afternoon, yet numbers remain above average. Normal temperatures should sit in the 30s for this time of the year. A seasonable forecast, however, is not expected to be seen until the end of the 10-day forecast. Highs remain in the 40s to 50s through the end of the following work week.
As far as precipitation, we're tracking a system that's pushing in milder air, allowing for the snow to remain in the mountains and mostly just rain south of the foothills. Snow accumulation north of the Lakes Region may end up with a dusting to 2 inches in Vermont, 2 to 4 inches in New Hampshire. Maine, on the other hand, may see 4 to 6 inches north of the Maine Turnpike and up to 8 inches in the crown of Maine.
With milder temperatures across central and southern New England, a wintry mix to rain will fall over much of the region in scattered form by the evening hours and late night into Friday early morning. With a few sprinkles Friday morning, roads should be okay as we see the warm temperatures from the Lakes Region south. It's the North Country that may still experience slick areas after the snow and wintry mix, slushy roads may remain through the early afternoon in New Hampshire. The crown of Maine will remain in the 30s and see more snow through the afternoon hours.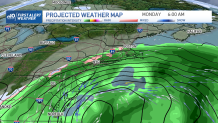 With a cold front late Friday, we'll see temperatures dropping by Saturday. Highs throughout the entire weekend will remain in the 40s, but more sunshine will dominate the first half of the weekend. Sunday will track a low pressure south of New England which may lead into showers Sunday evening into Monday morning. With above freezing temperatures early, most of these showers will remain as rain. If temperatures drop enough and the low shifts farther north, we may see snow showers inland. Due to timing and tracking, a fixed precipitation type forecast isn't pinned yet. Increasing clouds, however, will remain in the forecast for Sunday into early Monday.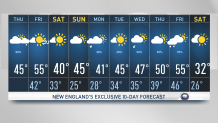 Throughout the stretch of the 10-day forecast we'll see the following chance of showers on Wednesday with highs in the 40s and another round of 50s by the second half of the week. Next weekend is the opportunity to see more wintry temperatures dropping to 20s and 30s.