Clouds collect throughout the overnight and lead to a cloudy start for Thursday. Expect rain to arrive by mid-afternoon. The rain may start as wet snow, well north in the mountains. Highs will be in the middle and upper 40s.
On Thursday night, rain winds down amid very mild conditions. Lows will be around 45 degrees.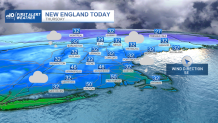 We're looking at near record warmth for Friday, with mostly sunny skies. Highs will be in the middle and upper 50s.
Saturday, mostly sunny and cooler, with a breeze. Highs will be around 40. On Sunday, partly sunny, and cool weather are in the forecast, with highs around 40.
Monday, an early shower is possible on the Cape and Islands, but otherwise, it will be mostly cloudy and milder, with highs in the middle 40s. Tuesday is mostly sunny, and very mild. Highs will be around 50 degrees.
Expect several days around the 50 degree mark throughout next week. All precipitation events will be in the form of rain.