It's rare for very high fire danger classification in New England, especially over a large area, but Tuesday brings exactly that – from central Vermont and New Hampshire to just south of the Massachusetts Turnpike, including Worcester and Boston. The threat for brush fire development and growth is very high, owing to recent dry conditions, dry brush and dry air with warming temperatures.
Additionally, a gusty westerly wind to 30 mph for many and up to 40 mph on Cape Cod, becoming southwest late in the day, will contribute to fire spread and this can apply to both brush fires and building fires, as any type of fire thrives on wind to grow and spread. Though Tuesday morning clouds have been thinning for strengthening sun, wildfire smoke from distant fires in western Canada will thicken in our New England sky Tuesday, carried thousands of feet above our heads by the jet stream winds aloft, contributing to a colorful Tuesday evening sunset and Wednesday morning sunrise.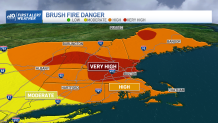 Though that smoke doesn't directly make it to the ground, there's just enough pollution in southern New England air for moderate air quality – noticed only by those with respiratory problems – and pollen continues to fill the air. A cold front dropping south from Canada will carry scattered showers from north to south Tuesday late evening and overnight, not arriving to southeastern New England until predawn Wednesday, dropping only hundredths of an inch of rain for communities that see them, and perhaps not surviving the trip at all for the southwest quarter of New England.
So, fire danger and pollen continues Wednesday, though a drop of about 20 degrees in daytime high temperature owing to the new, cooler air from Canada should mean the relative humidity of the air isn't quite as dry. The busy, northerly breeze Wednesday will gust to 30 mph at times and will ensure high temperatures near 60 feel like the 50s even at the warmest time of day – a big drop from one day prior! As dry and fair weather continues, temperatures climb incrementally to the mid 60s, then around 70 degrees, respectively, on Thursday and Friday. A sluggish cold front will approach New England this weekend, though timing has been somewhat variable in the forecast. 24 hours ago, it looked like the front may arrive with scattered rain showers on Sunday. That timing has since sped up to later Saturday into early Sunday morning, so we clearly still have some work to do firming this up.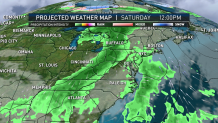 That said, whatever showers arrive shouldn't stay more than about 12 to 15 hours, which means the entire weekend isn't expected to be marred by them. We could use some meaningful rain, but our First Alert Team isn't sold on just how much these showers will deliver, with current estimates from our exclusive NBC Forecast System having dropped to around half an inch due to the increasing forecast speed of the system.
Local
In-depth news coverage of the Greater Boston Area.
For now, we continue to carry highs in the 60s and 70s next week in our exclusive 10-day forecast, just as long as a northeast wind off the cool ocean doesn't set up, which we'll be keeping an eye out for signals of.