Temperatures climbed rapidly across southern New England Friday, setting new record highs.
The thermometer reached the upper 50s to low 60s in the warmest spots in southern and parts of central New England.
Boston managed to tie its previous record for Feb. 10 of 60 degrees, with further warmth possible as well.
In Maine, however, temperatures have remained cold enough to keep the snow going. Snow reports are now over 7.5 inches in the crown of Maine and in Penobscot County north of Millinocket. Otherwise, reports range from 2 to 6 inches elsewhere in the state.
Vermont and New Hampshire haven't seen the same action but reported over 2 inches far north. Another round of snow may accumulate from a dusting to 2 inches in Coos and Franklin Counties.
Otherwise, it's a mild day across much of New England! The warmest cities will be in southeastern Massachusetts, but upper 50s will expand from Connecticut to Rhode Island and up to Boston. After this, a cold front will push east tonight allowing from a drop in temperatures taking us down to the 30s with colder wind chills as the wind is picking up to gust over 30 mph. It's the weekend after all, so if you plan to be out and about this evening, take a warmer coat as you'll need it on your way back home.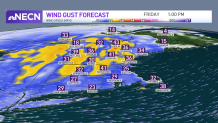 The weekend will overall be cooler than this Friday, but if you have to choose a day pay close attention to the differences they'll have. Saturday is cooler but sunnier and Sunday is warmer but will see growing clouds as a coastal low approaches south. Most of New England will remain dry but the coast of southeastern New England will see some showers, a few flakes could be mixed in depending on temperatures and timing. Otherwise, Monday will keep the clouds around for the first half of the day.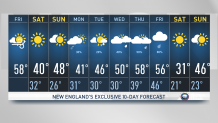 Next week begins cool with highs in the low 40s growing to the 50s by the second half of next week accompanied by unsettled conditions. Rain will tag along Wednesday through Friday. While our following weekend is trending for another quick cold snap with highs in the lower 30s. Sunny skies Saturday with a warm-up on Sunday taking us back to the upper 40s.