Another mild day for Monday. Rain, very early in the morning, quickly gives way to sunny skies. With a westerly wind, highs are in the lower and middle 70s.
Winds will swing around and become northeast for Tuesday. As a result, skies will be partly to mostly cloudy, and temperatures will be in the upper 50s. It will be milder for Wednesday with more sunshine. Highs will be in the middle and upper 60s.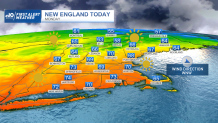 Temperatures will be very warm and it will be mostly sunny on Thursday. Highs in the middle and upper 70s are possible. We're looking at a dry start to Friday, with showers and thunderstorms arriving for the evening. Highs of 75 to 80 degrees are possible before the rain arrives.
Saturday is partly to mostly sunny, a stray shower chance for the afternoon. Highs will be in the lower 70s. Then things will cool off some for Mother's Day, but still pleasant. Under a partly cloudy sky, highs reach the middle and upper 60s. There is a slight chance of seeing a pop up shower in the afternoon, but most of the day remains dry.