We're eyeing several storms for the upcoming week, and despite mild temperatures, one chance for snow is appearing early next weekend.
For Monday, we'll see more clouds than sun, with a slight chance of an early shower for the Cape and Islands. Highs are in the upper 40's, running 10 degrees above average. Skies clear Monday night as some cooler air works in. Lows will be in the middle and upper 20s.
Tuesday is mostly cloudy, with a chance of showers by mid-evening and highs in the upper 30s. Wednesday quickly clears out, and is very mild and sunny. Highs will be near 50.
Thursday is cloudy with rain developing by mid-morning and highs in the middle 40s.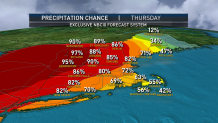 Friday is very mild, with breaks of sunshine. Rain develops by evening, with highs in the lower 50s. Saturday, as colder air works in, rain mixes with snow. Temperatures still appear too warm for accumulation, with highs in the middle 30s.