We're crawling out of the cold air on Friday morning. Although bright and dry, the day will quickly slide downhill as showers move in with a weather system to the west.
This storm will come at us in pieces, the first hitting late Friday afternoon with a few spotty showers after 5 or 6 p.m. That may work in the WooSox' favor, but with the loss of the sun and some light precipitation, the temps will crumble from the upper 40s to the upper 30s. Plan on a thick coat and even some gloves for the home opener at Polar Park.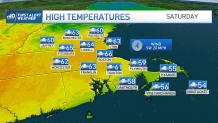 It may come as a relief to know that this cold air will get ousted by this storm system. In fact, highs soar to the mid-60s on Saturday, as somewhat balmy air gets pulled into New England. The wettest part of the day is early morning through midday. In the afternoon, we could even see a few rays of sun, so at this point, the Red Sox game looks OK. It's later in the evening that things turn a little bumpy.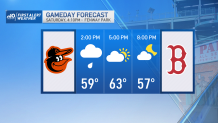 A sharp cold front will slice through New England, triggering storms along its path. Some of these storms will be strong, if not borderline severe in parts of western Massachusetts. It appears now that they will weaken considerably by the time they reach Eastern Mass and coastal New Hampshire. Nevertheless, we can expect some downpours and more strong winds between 6-9pm.
Sunday, the cold air returns for a cameo. The temperatures won't be as cold as Thursday's blast, but there will be plenty of wind to keep the chill on.
Have a great weekend and GO RED (and Woo) SOX!