Monday starts with a mostly cloudy sky and mild temperatures. By afternoon highs reach the lower and middle 40s.
Rain Begins Monday Evening
Rain will begin by evening for most areas, except for the higher elevations, where snow will fall. Throughout the overnight into Tuesday, rain will be heavy at times near the coastline, while heavy wet snow falls in the interior.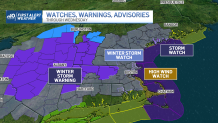 Overnight lows will be close to 40 near the water, and right around freezing west of 495, into southern New Hampshire and Vermont. On Tuesday, rain will change to snow from west to east throughout the day.
Boston should change to snow by mid-afternoon. Heavy wet snow will continue for all locations into Tuesday night and Wednesday morning. Temperatures will be right around freezing by late Tuesday, and stay there through Wednesday morning.
How Much Snow Is Expected in New England?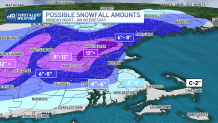 Accumulations in and around Boston will range between 4 inches right by the water to 8 inches for MetroWest. Further west, into Worcester and northwestern Middlesex, a foot plus of snowfall is likely. Toward the Cape, and coastal Plymouth County, far less snow can be expected as the system stays mainly rain.
On Wednesday, lingering snow showers and flurries end by midday. Sunny breaks for the afternoon with highs near 40.
Thursday is milder, and mostly sunny, highs in the upper 40's. St. Patrick's Day Friday, is partly cloudy and mild, highs around 50 degrees.