Friday is our best day of the week, with early sunshine and highs in the mid 40s, as we prepare for a system this weekend.
The system on Saturday into Sunday will bring in some slushy snow, then a mix, gusty northeast winds and some rough surf. The low pressure system heading across the Great Lakes will pass just to our south Saturday and this means we are in the cold section of this storm.
Timing and Snowfall Totals for Upcoming System
The wind will be gusty from the northeast, 30 to 40 mph at the coast by Saturday evening. And the wave heights will be slightly higher, but not expecting coastal flooding.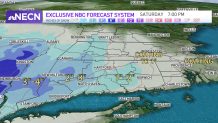 As the storm heads in overnight Friday night, that is when we have the best chance for snow or accumulation in southern New England, especially midnight to sunrise Saturday. The highest amounts will be in southwestern Connecticut overnight with 2 to 3 inches, around 1 inch outside of I-495 and in higher elevations, and scattered coatings around eastern Massachusetts.
This snow melts and gets washed away with a mix to a few rain showers Saturday afternoon as temperatures reach the upper 30s. Lingering ocean-effect snow or rain showers continue through the day for the South Shore, Cape and Islands. As we spring forward one hour on Saturday night and into Sunday morning, we have a sunnier day Sunday with highs around 40.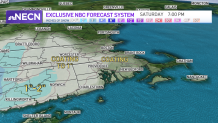 Boston Snow Storm Next Week Could Bring Plowable Snow
Another and more significant system develops for Monday into Tuesday, bringing us a mix to rain and some snow depending on the timing (overnight vs. daytime), plus gusty winds.
The track of the storm is not locked in yet, but we are facing slushy inland plowable snow, gusty winds from the northeast in excess of 50 mph at the coast and minor coastal flooding and intense waves.
The storm is trending slower so a longer duration storm is possible, with impacts starting Monday night, lasting through Wednesday morning. Stay tuned to the First Alert weather team for more on the details throughout the weekend.
Pollen Season Update
Pollen is starting to become an issue now that we are heading towards astronomical spring. The next several days we will start to see more Juniper in the air as this is the dominant pollen now in the northeast. Our pollen and allergy season has become longer since 1970, according to Climate Central.
With Boston seeing 13 more days of temps above freezing on average. With the longer growing season, pollen and mold will be around longer and unfortunately our "allergy season" could become year round. The leaf index across the country shows that currently most of the southern U.S. have been ahead of schedule with the trees leafing out and early buds showing up as far north as Long Island this week.