A beautiful stretch of spring weather is setting up across New England for the next several days.
Monday will feature abundant sunshine and mild temperatures, generally in the 70s, with the exception of the far North Country. There will be an active northwest wind, gusting at times to 25 mph, making for an extra tough day for allergy sufferers as our pollen count is through the roof right now.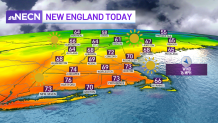 Monday night, under mostly clear skies, we'll cool into the 30s and 40s from north to south, so a sweatshirt or long sleeve/spring jacket is a must as you head out the door on Tuesday. A backdoor cold front will slide through the region shifting our wind to blow in off the ocean resulting in noticeably cooler temperatures Tuesday afternoon.
With a big area of high pressure spanning from the Great Lakes to the Northeast, our weather will remain fair and rain-free through at least Thursday. An isolated shower Thursday night and again later Friday is possible ahead of an approaching front, but it doesn't look like a decent dose of rain by any means.
The weekend should be mainly dry, though will feature some clouds at times; right now any outdoor plans you have, including for Mother's Day are looking good! Highs will be warmest on Saturday, in the 70s, and pleasant in the 60s on Sunday.
Next week features a few weak disturbances that may bring some light showers from time to time as seen in our exclusive 10 day forecast.