In New England's brief, one-day breather between storms, it's a great opportunity for residents of northern New England, in particular, to move any snow that needs to be shifted around, while temperatures rise above freezing and soften the snow before we add more to it Wednesday through Wednesday night.
The break in the action comes as Monday's storm has departed east and the next storm has developed, but is over Texas and Oklahoma. A ribbon of clouds Tuesday morning will also drop some snow showers on northern New England, but breaks of sun are expected for most at times Tuesday afternoon, not only helping to soften the fallen snow a bit, but also providing sun glare on fresh snow and melting snow on the roads with road spray, meaning sunglasses and windshield washer fluid are both worthwhile today.
Next Winter Storm Moves in
Overnight Tuesday night, temperatures drop below freezing under partly cloudy skies, but the next storm approaches quickly on Wednesday, so any limited sun disappears quickly behind clouds that usher in the first snowflakes Wednesday morning from New York City to Connecticut, and between noon and 3 p.m., for much of the rest of southern New England.
At first, snow will fall lightly, but will intensify by late day Wednesday, meaning winter driving is anticipated for the evening commute with the exception of Maine, where snow doesn't arrive until evening.
Winter Storm to Bring Snow, Rain and Wind
This storm center is forecast to track right over southern New England Wednesday night into Thursday morning, not only carrying Gulf of Mexico warmth with its moisture, but also ushering Atlantic warmth into New England, as well, meaning snow will change to rain Wednesday evening and night for southern and central New England, respectively, on an increasing southerly wind. In fact, that mild south wind may gust over 40 mph in coastal New England and over 60 mph from Cape Cod to the eastern coast of Maine Wednesday night into Thursday morning before the storm moves east and early rain showers (snow in Northern New England) wind down for breaks of afternoon sun and mild temperatures in the 40s.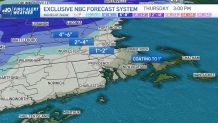 How Much Will it Snow in New England?
Total snow amounts will reach half a foot to a foot in northern New England, bringing one week snow totals for ski and snowmobile country to 18 to 24 inches in a fantastic boon to winter sports, while southern New England finds new snow totals much lower – around 1 to 5 inches depending on location, before the change to rain.
Are There More Snow Chances on the Way for New England?
Cooler air returns Friday, also quieting the weather for a few days with the next chance of rain and snow not likely to arrive until Sunday evening and night, save for some snow showers at times this weekend in the mountains. Another chance of unsettled weather arrives for the middle of next week, toward the end of our exclusive First Alert 10-day forecast.