New England is on the cusp of our first widespread summer preview, but before that warmth arrives, Wednesday delivers very comfortable spring air with a fresh northwest wind gusting at times to 30 mph behind a cold front that marched into New England in the early morning.
The reinforcing shot of dry air from Canada ensures brush fire danger will remain high to very high with a Red Flag Warning – a government warning for explosive fire growth conditions – continuing through the day, owing to the combination of dry air and a gusty wind.
Of course, pollen count remains elevated for days on end with maple, alder, juniper and poplar continuing to lead the way, though we're just starting to see additional pollens emerging and those should increase in the coming days.
New Englanders will want to keep hydration in mind over the next few days, as the repeated dry weather can take water from the body without much sweating: Make sure kids and pets have plenty of water on hand. Although clouds outweigh sun Wednesday, the breaks of sun this time of year come with a strong sun angle for a high UV index and will leave New Englanders reaching for the sunglasses. Skies clear overnight Wednesday night as the wind quiets with low temperatures around 50 degrees, then just enough west wind should pick up Thursday to stave off a sea breeze and allow warm temperatures in the 80s to reach all the way to coastal communities during the afternoon.
If Boston hits 80 degrees - and our forecast is 83 degrees - it would be the first 80 degree or higher temperature in the city since Sept. 18! With a lighter wind Friday, we're quite likely to turn a sea breeze along the coast after a quick temperature rise in the first part of the morning, so someplace like Boston is likely to rise into the 70s, then fall through the 60s during the afternoon, while inland warms to and beyond 80. Even inland, though, the sea breeze eventually arrives to somewhere near Route 495 in eastern Massachusetts by day's end, cooling temperatures late and really serving as the opening volley for what will be a cooler, onshore wind Saturday.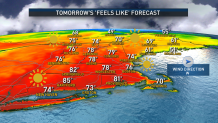 While Saturday is the pick of the weekend, it's likely to be mostly cloudy, particularly in eastern New England where the continued onshore wind flow will keep temperatures cool, though deep inland may rise to around 70 degrees.
Our New England weather takes another step back on Sunday, as rain showers arrive and an onshore wind continues, heralding a significant weather pattern change that starts with a weakening storm center along a dying warm front Sunday, then eventually gives way to continued showers Sunday night into Patriots Day. That's as a large upper level storm moves east out of the Great Lakes, complete with cool air that will reconfigure the jet stream winds aloft for most of the Massachusetts school vacation week.
The jet stream – the fast river of air, high in the sky, that separates cool air to the north from warmth to the south – dips south as a "trough" establishes over the Northeast next week, meaning a cooler pattern with showers expected at least during the first half of Marathon Monday and high temperatures near 60 degrees, then another chance of showers by week's end in our exclusive First Alert 10-day forecast.