Get ready to enjoy a bright and seasonable winter afternoon!
A cold front came through yesterday that brought temperatures down to the normal after a mild stretch of 40s, 50s and even 60s these past few days! The daily normal high for Boston is 37 degrees, and the thermometer hits the bull's eye today.  
Tomorrow will come to be slightly warmer into the 40s again, as we'll see a coastal low increasing the chance to see more clouds, a SW flow and the chance for some snow/rain showers crossing the south coast through the first half of the day.
Boston currently has a slight chance for some flurries to make it in if they arrive early enough before temperatures go up into the 40s through the afternoon. Other than that, cloudy and dry conditions will reign through the mid-afternoon. After that, enjoy the clear skies again.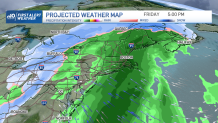 Tuesday will welcome another dry front that will drop temperatures into the upper 30s (seasonable)… but with a high pressure in Canada influencing the clear skies… our temperatures will seize the opportunity to climb the thermometers as much as possible to reach the 40s and possibly 50s again by the weekend.
Along with the warmth, we'll see a low out of the lower Midwest bringing the chance of snow for the mountains and rain back into the picture for southern New England by next Friday into Sunday. This may well give us a couple inches of rain by the end of the event. The trend for warmer than average temperatures seems to dominate through the next two weeks.