The weather is improving Friday afternoon for much of New England.
The welcomed flurries will stay west out into Vermont, while a flurry or two might still pop up early morning in the highest elevations north. Other than that, the clouds take over and witness the dramatic change in temperatures New England will experience Friday night after a mild day. Highs peaked in the upper 50s this morning across southern New England. North of the Merrimack Valley and the Monadnock Region has kept temperatures in the upper 40s.
The cold front pushes east Friday night and temperatures will dip back into the 20s and 30s across the six states. We're watching for breezy conditions that will make it feel like the teens and 20s by Saturday morning.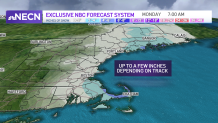 The clouds remain through the afternoon for most but a coastal low keeps us in the watch. This low pressure is exiting the Carolinas and will strengthen to produce strong wind gusts along the south and east coast of New England Saturday night into Sunday evening. Most importantly, we'll watch for the chance of accumulating snow!
The strongest winds could peak around 50 miles per hour Sunday morning into the late afternoon while the snow could begin late Saturday night into early Sunday. The snow may last through Monday and our exclusive NBC Forecast Model picks up on 6 inches along the area.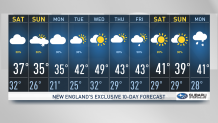 While Monday keeps the chance of snow and a wintry mix along the coast up to Maine, Tuesday could welcome another round of warm air and rain in southern New England with freezing rain and snow across the mountain range. In the 10-day forecast we'll keep the warming trend into the 40s by Wednesday into the second half of the work week along with more wet weather.