Clouds quickly part for sunshine on Sunday. With a high May sun angle, high temperatures are well into the 70's, with a bit of breeze from the West.
Monday is sunny, but much cooler, with windy conditions. High temperatures only in the lower and middle 60's. Tuesday is mostly sunny and pleasant, with high temperatures in the middle 60's. Look for the Moon, Venus, and Mars in the night sky Tuesday, as conditions are likely clear.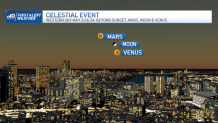 Wednesday is milder, with sunny skies, quickly fading to a few clouds in the afternoon. High temperatures are in the middle 70's, and a shower is possible very late in the evening into Thursday morning.
A cold front will pass through the area early on Thursday, this could produce our only chance for rain during the workweek. By mid-morning Thursday we're mostly sunny again, with cooler high temperatures in the middle 60's.
Friday, is mostly sunny, and milder, with high temperatures in the upper 60's. The early call for the Holiday Weekend, keeps Saturday dry and sunny, but does show some rain arriving for Sunday and Memorial Day.