This spring's been drier than normal and hot early in the season, bringing yet another concern for dangerous fire weather.
The National Weather Service has issued a fire weather watch for nearly all of Massachusetts, Rhode Island and Connecticut from Tuesday morning through Wednesday evening. Out of southern New England, only Block Island, Cape Cod and the Islands don't have to be on alert for rapidly spreading fires.
The most critical conditions each day will be between late morning to sundown, aligning with peak heating of the day and solar radiation.
These fires aren't spontaneously happening because of the weather, but conditions themselves certainly can accelerate them.
Heat and drier-than-normal grounds can fuel any fire that ignites. Hot temperatures evaporate moisture from the soil and vegetation, and dried-out trees, shrubs, grasses and fallen branches can act as kindling.
A series of brush fires spread last week, one of which threatened homes in Lynn.
A fire weather watch is issued when there is high confidence concerning the combustion of fuels and weather conditions that will support extreme fire danger and/or fire behavior within roughly 18 to 96 hours.
As the National Weather Service puts it, "The overall intent of a Fire Weather Watch is to alert users at least a day in advance to the potential for widespread new ignitions or control problems with existing fires, both of which could pose a threat to life and property, and for purposes of resource allocation and firefighter safety."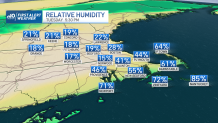 If forecast conditions heighten, a red flag warning may be issued. This means hot temperatures and very low humidity values, coupled with strong winds, are expected to combine to produce an increased risk of fire danger.
The National Weather Service's Boston office has a high degree of confidence that dry fuels and weather conditions support extreme fire danger within 24 hours when the following criteria are met:
Winds sustained or with frequent gusts of 25 mph+
Relative humidity at or below 30% anytime during the day
No more than one quarter of an inch of rain for the previous five days
Lightning after an extended dry period
Significant dry frontal passage
Dry thunderstorms
Keetch-Byram Drought Index values of 300 or greater (in the summer only)
When a red flag warning is issued, the National Weather Service suggests:
If you're allowed to burn, all burn barrels must be covered with a weighted metal cover with holes no larger than 3/4 of an inch
Don't throw cigarettes or matches out of a moving vehicle. They may ignite dry grass on the side of the road and become a wildfire
Extinguish all outdoor fires properly. Drown fires with plenty of water and stir to make sure everything is cold to the touch. Dunk charcoal in water until cold. Do not throw live charcoal on the ground and leave it
Don't ever leave a fire unattended. Sparks or embers can blow into leaves or grass, ignite a fire and quickly spread