New England's recent series of storm systems continues Monday with a storm center passing over Cape Cod, tugging cold air on a northerly wind behind it as it leaves, changing rain in the southern half of New England to snow before exiting, and after dropping over half a foot of snow in parts of central and northern New England.
When Will the Snow Move in?
For most of southern New England and the Boston Metro, rain should be over to snow by early afternoon for most, middle afternoon on Cape Cod, with generally two to four inches of snow accumulating north and west of town, and an inch or two south and east with a coating on the Mid and Outer Cape.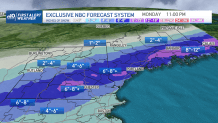 How Long Will Monday's Snow Last?
Although a gusty morning wind quiets gradually, the snow load from heavy wet snow will lead to continued scattered outages where four inches or more of snow accumulating puts sufficient load on tree limbs and branches. The wind really hasn't been strong enough to churn up exceptionally high seas, but even waves of 5 to 10 feet, coupled with high tidal levels owing to the New Moon phase, will mean some very minor coastal flooding in typically vulnerable spots at a midday high tide.
Although snow ends between 6 p.m. and 9 p.m. with a gradually clearing overnight sky, Monday night subfreezing temperatures will mean slick spots on many roads, except those that are heavily treated.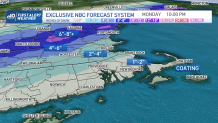 When Is the Next Chance of Snow in New England?
Local
In-depth news coverage of the Greater Boston Area.
Tuesday brings variable clouds and temperatures above freezing for most, enough to soften the snow in spots it needs to be moved around before the next storm arrives Wednesday afternoon. For southern New England, Wednesday's snow starts in the afternoon and accumulates one to three inches before changing to rain, but central New England sees closer to three to six inches and northern New England will add another six to 12 inches, capping a two week stretch that has added a foot and a half to two feet of fresh snow on a good portion of ski and snowmobile country!
The change to rain Wednesday evening and overnight takes place from south to north, accompanied by a strengthening southerly wind that may gust over 60 mph on Cape Cod by predawn Thursday, ushering in a quieter stretch of weather Thursday through the weekend, with mild Thursday temperatures cooling to seasonable levels into the weekend.
Our exclusive First Alert 10-day forecast brings a returning chance of snow and rain Sunday evening into early next week as the colder air of the weekend collides with warmth attempting a return, so we may find the weather turning messy again early next week.