A tornado warning that was issued around 7:30 p.m. Saturday for parts of Oxford and Franklin counties in western Maine has expired. Meteorologist Cecy del Carmen cautions the strong and severe line of thunderstorms is continuing, however. It is moving east at a rapid pace, has strong wind gusts and is triggering some hail that can cause damage.
"Be wary," she said. "It doesn't matter regardless whether you're under a tornado watch, these storm are quite, quite damaging. They're bringing damaging wind, large sized hail. So it's important for you to take shelter immediately."
There were several severe thunderstorm warnings Saturday evening for parts of Maine, Vermont and New Hampshire, with high heat and humidity in place across the region. All have since expired.
Click here for active weather alerts
It's a hot weekend for us all. Today we're dealing with temperatures in the 90s but we're just getting ready to see even warmer temperatures Sunday.
As our humidity is also on the rise, our temperatures will feel much warmer. If you see mid to upper 80s in the thermometer, you're likely feeling in the 90s, we add a few more degrees due to the fact that our bodies can't cool as efficiently as it would on a dry day.
While today we see many low 90s as a popular number, our highs Sunday will rise to the upper 90s and likely feel up to 100 in some spots.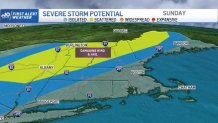 With humidity in place, northern New England has the potential to see strong to severe storms this evening. With hot temperatures and moisture, our atmosphere may become volatile for isolated storms formation along the showers. Severe storm development may bring strong localized wind gusts, hail and frequent lightning. Conditions may also bring rotating storms.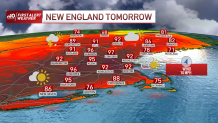 The highest risk is mainly for northern New Hampshire and Maine, but isolated areas in Vermont may also see some of the activity.
Remain weather alert Saturday evening and again Sunday, as a cold front may trigger once more the scattered potential for severe storm development across western and northern New England.
We anticipate a strong clash of temperatures with our cold air mass rushing in from the northwest to run into very hot temperatures and allowing our lapse rates to increase again. This may bring once more the chance of localized damaging wind gusts, hail and thunder.
Downloading our NBC10 Boston App and our NECN app may give you the tools to monitor our live radar and see areas of potential weather danger.
After Sunday's PM cold front, our highs will drop to the 70s on Monday and remain in the 60s Tuesday and Wednesday.
Chance of showers increases by the end of next week and our Memorial Day weekend features highs in the 70s.
Stay safe and stay weather aware.
Sign up for our Breaking newsletter to get the most urgent news stories in your inbox.