Sunshine fades behind increasing clouds Monday, but cold air is well in place as high temperatures struggle to get to the mid 30s, even in the warmer spots of southern New England.
Unlike previous storms, the approaching storm on Monday will be coming into plenty of cold air, so it really is not a question of rain or snow: Snow will fly region wide with this one.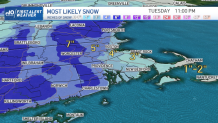 When Will the Snow Begin in New England?
Clouds thicken Monday afternoon with first precipitation developing during the early evening at the extreme western border of New England, but for most of us expanding between 10 p.m. and midnight. Northeastern New England will be on a slightly slower timeframe with snow arriving to southern Maine during the predawn hours. Snow will fall heaviest between 5 a.m. Tuesday and 10 a.m., but will continue to fall periodically throughout the course of the entire day.
How Much Snow Will Fall During the Storm?
Forecast snow amounts vary from 2 or 3 inches in southeastern Massachusetts, and perhaps a bit less on the Cape, to as much as an 8 inch average in western New England with Summit amounts in the Berkshires to southern Green mountains that may total 10 to 12 inches.
For most of us, we land in between, expected to receive somewhere between 4 and 8 inches of snow with highest amounts found in hilly terrain and through the interior. Tuesday snow is expected to gradually taper during the evening but road conditions very well may improve for a number of spots earlier in the day, during the afternoon, with what is now October sun strength coupled with temperatures that will be rising to near the melting point, increasing the effectiveness of road chemical treatments.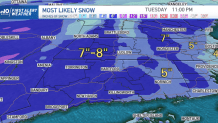 Tracking More Storms Ahead
A new disturbance is in the forecast for late Wednesday into early Thursday morning, but comes with milder air. After mixed showers, temperatures are expected to rise to as warm as 50 degrees Thursday afternoon!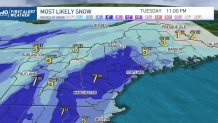 Nonetheless, when the next larger storm comes calling late Friday into Saturday there are indications enough cold air will have returned to set the stage for accumulating snow for many of us, with our exclusive NBC forecast system boasting an early prediction of around a foot of snow in central and northern New England. But it's early, and our First Alert team will keep you posted.