Severe weather moved through the region Monday, with a series of severe thunderstorm warnings issued across the New England states and a tornado warning in Connecticut in the evening.
The tornado warning that was issued for Litchfield County, Connecticut, has since expired, as did severe thunderstorm warnings and watches, and flash flood warnings -- though they remained in effect until late Monday night.
See all alerts in your area here.
Video captured just before 6:30 p.m. by Wes Carter and shared online later Monday night appears to show a tornado touch down in Charlestown, New Hampshire, near Claremont. The National Weather Service has not confirmed a tornado, and no tornado warnings were issued for that area earlier in the evening.
---
What to do in a tornado warning:
The National Weather Service warns that if you are in a tornado warning the threat of a storm is imminent and you should seek shelter immediately.
If you are at your home, go to your basement, safe room or an interior room away from windows. If you are at a workplace or school, follow tornado drill protocols and get to shelter quickly and calmly. Stay away from windows and large open rooms.
If you are outside try to find a safe sturdy building immediately. If you are in a vehicle, try to drive to the closest safe shelter available. If you cannot get to a safe location, get down and cover your head, or abandon your car and seek shelter in a low lying area like a ditch.
---
We've been tracking a strong cold front this evening that will bring some severe thunderstorms to portions of western New England through the early nighttime hours.
There are severe thunderstorm watches posted for parts of Connecticut, Massachusetts and New Hampshire.
The main threat with these storms will be damaging winds and hail which has prompted us to go First Alert Red through early tonight. The bulk of the action will occur from 6 p.m. through about 8 p.m. as the cold front crosses into the region.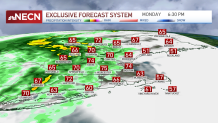 Afterward, the thunderstorms will weaken as they make their way to the east, but it's not out of the question that a few storms may still hold together before ending around midnight across southern New England. Showers will clear out later tonight across the north as the cold front clears through eastern Maine.
Behind the front we'll be left with gusty winds out of the west/northwest as high pressure builds into the region from the west and ushers in drier, more seasonable air. Tuesday will feature sunshine and scattered clouds with the risk for showers across the higher terrain of northern and western New England along with a gusty west/northwest wind. Highs will range from the 60s north to the low 70s south.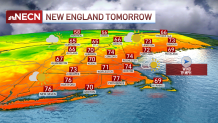 The forecast is still on track for us to see seasonable conditions Wednesday and Thursday. A frontal system may kick off a few showers Thursday afternoon, especially across the north country. Friday, we'll start to see temperatures warming up, as a matter of fact, by Saturday, we could be seeing near record high temperatures! Stay tuned!