The first snow of the year, and second of the season, has left New England.
The event performed as expected and advertised. Snow totals weren't outstanding, but brought a good base of snow for Wachusett Mountain. With temperatures dropping to below freezing tonight, road conditions will be tough in spots, especially where not treated.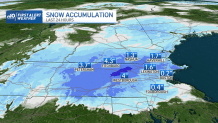 This weekend is fairly quiet. A disturbance aloft Saturday will fill the sky with lots of bubbling clouds after limited morning sunshine, and from those clouds a few flurries and sprinkles may fall in the afternoon, with scattered snow showers in the mountains.
Sunday brings lots of sun, but a cool day with highs in the 30s, though neither weekend day features a lot of wind, with a northerly and northwest breeze at about 5-15 mph both days.
Our First Alert team has been watching three disturbances in the 10-day forecast next week: Monday, Wednesday and Friday night to Saturday.
The first two should be relatively quick-moving, meaning snow/rain showers, at worst, would be the impact, with a potential one or both actually slide south of us entirely. Friday night to Saturday's disturbance looks stronger and holds more potential to become a developing storm of more significant snow and/or rain – probably both, depending on your location and storm track.
Regardless, next week finally starts to feel and look more like January, even if it ends up a few degrees above normal for temperature. Mid-month, long range guidance suggests our warm pattern returns with above normal temperatures. While not extreme warmth, the trend warmer doesn't bode well for snow lovers.