Powerful storms swept through the region on Saturday, causing flooding and other damage across parts of Massachusetts and Connecticut.
Torrential downpours in Worcester Saturday evening left multiple streets flooded out.
"It was really bad," said Bryan Erazo who watched as the water came up fast on Pelham Street right outside his home. "Almost to the first floor."
As the flood waters receded, two residents took it upon themselves to start sweeping up the residue and clearing the drains.
As it has for most of this month, the rain hit the area hard once again.
Several cars got stranded in the rising water across the city.
"Water started getting in my car and the car just shut off," said Jacob Addow, who was driving along Cambridge Street when the downpours left the roadway all clogged up.
Before he knew it, his car got stuck.
He got out before the street really flooded.
"It started rising and then came all the way up to the car and started getting inside the car." Addow said.
In Connecticut, storms also caused flood damage throughout the state.
A bridge in Ashford collapsed. It wasn't immediately clear if anyone was hurt.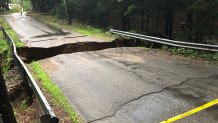 And in Tolland, Old Stafford Road was closed between Slater Road and Charter Road due to flooding.
More rain is expected on Sunday, with the risk of flash floods and damaging wind gusts.
By the time it's all over, rainfall totals could add up between 1 to 2 inches and even up to 4 inches in the most affected areas.
Download the NBC-10 app to receive weather notifications and access our live radar.