After ranking in the top 5 list of warmest winters in Boston, March is turning the page for us to enter a wintry pattern.
Our temperatures will dip on the second half of next week and we're looking to experience the risk of freezing rain, sleet & possible snow across New England.
We've placed a First Alert Stamp for Thursday, as a low is approaching New England with snow, rain, sleet and freezing rain. With this wintry pattern, road conditions will remain treacherous Wednesday night through Friday.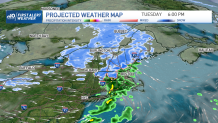 The chance of showers will only affect the far southeast overnight and depart before Monday's sunrise.
Today, however, we'll enjoy mild temperatures and even warmer conditions tomorrow. Highs will climb to the mid and upper 50s Monday afternoon before another boundary pushes in showers Monday evening.
This front will bring spotty snow showers in the mountains and some rain showers across MA and the south. Other than that, the more widespread event will arrive Wednesday night into Friday morning.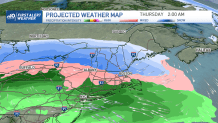 This is the reason for our First Alert as the system will push in freezing rain/sleet for a prolonged period of time over MA. The mountains will see snow. Accumulating snow may end up adding up to a foot after a week's worth. The freezing rain may last for as long as Thursday AM through Friday AM.
As this system departs Friday, another one rolls in on the weekend enhancing another potential round of rain/snow. Temperatures will plunge to the 30s by Friday and upper 20s to 30s by early next weekend.