Ongoing rounds of downpours and thunderstorms are possible throughout the rest of the day Tuesday.
The biggest issues are torrential rain, frequent lightning in a dense population area. Some hail and locally strong wind gusts are possible. A follow-up cluster of downpours and thunder builds east across southern New England during the afternoon into evening, ending last on Cape Cod overnight Tuesday night.
The downpours and thunder are all ahead of a cold front nudging south from central New England, set to open up a northerly wind with dropping temperatures and low dew points – a less humid air – over the course of Tuesday night and Wednesday.
With strong, energetic disturbances still expected to ride overhead Wednesday, scattered showers will develop in northern New England and late day sprinkles will develop south from building, puffy clouds.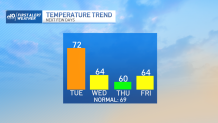 Showers will continue for many overnight Wednesday night and by Thursday the air aloft will be cold enough for some thunderstorms in northern New England, along with some small hailstones and graupel – soft snow pellets.
The weather quiets and dries Friday, but cool fall air continues. While a low chance of showers can't be ruled out Saturday and Sunday afternoons, right now that seems unlikely.
Cool autumn air is expected to continue through all of next week, meaning air conditioners can come out and pools can be closed up for the season.