New England continues to straddle a relatively sharp frontal boundary – a dividing zone between very different types of air – draped across southern New England Wednesday and separating high temperatures in the 30s in far northern New England from air closer to 60 degrees by afternoon in far southwestern New England.
The result of this type of an air clash is clouds, and when atmospheric disturbances ripple through, periods of precipitation. Wednesday brings a break in that precipitation for much of the day, with pockets of fog in the hills slow to thin as clouds remain stubborn with a light and variable wind.
New England's next disturbance lifts northeast up the I-95 corridor Wednesday evening through night, after producing more severe weather in the southeast U.S. overnight Tuesday night and, like the preceding area of disturbed weather 24 hours prior, will lose that severity as it moves north, delivering a steady rain for most.
The situation changes for the North Country of New England overnight Wednesday night, however, where cold air will push south from Canada and result in a mix with snow and ice pellets that will trend toward snow for the far North Country during the overnight into Thursday morning, with two to as much as six inches of accumulation in the mountains. Sleet will take over for central New Hampshire, southern Vermont and southern Maine.
As the cold air oozes southward on an increasing northeasterly wind, the freezing line will nudge south, too, and this will mean a change to freezing rain in parts of central and far northern Massachusetts into southern New Hampshire, timed just as the intensity of precipitation lets up with the heaviest rain exiting east over the ocean.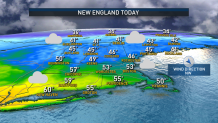 That said, it doesn't take much ice to create problems on roadways, so even lingering freezing drizzle could cause slick road conditions Thursday morning to midday in the aforementioned areas, with patchy drizzle and freezing drizzle expected to continue off and on through much of the day, owing to the continued, cool northeast wind flow.
This also will keep high temperatures in the 30s for most of New England, with 40s reserved mostly for areas near and south of the Mass. Turnpike. Another chance of road icing happens overnight Thursday night into Friday morning, as temperatures dip below freezing again and some patchy drizzle may still linger in the first part of the night, leaving moisture on area roads that may freeze, particularly in eastern New England. Daytime Friday brings a fairly energetic disturbance aloft that will not only promote lots of clouds, but also result in scattered snow and rain showers, though total accumulation is expected to be light if any.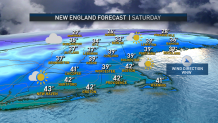 Saturday's building clouds with another, weaker atmospheric disturbance will yield fewer snow showers, mostly confined to the mountains, though the abundance of clouds and cool air will put a chill in the air. As cool and dry Canadian air takes hold Sunday, the temperatures across New England will hold in the 30s for highs, but we'll see more sunshine by virtue of the drier air.
Another disturbance with possible snow showers will enter New England from the west Monday, then the jet stream sets up in a pattern a bit more favorable for storm development near the East Coast Wednesday into next weekend, with disturbances capable of touching off storm development likely to be centered around Wednesday, Jan. 11 and Friday or Saturday. Our First Alert Team will keep you posted on how this potential evolves.