We are getting ready for our next spring snowstorm for Friday night into Saturday. And by spring, we mean meteorologically speaking. Heavy snow will fall for a time overnight into Saturday morning, then a lot of mixing at the coast and southeast and a strong March sun angle will work against higher snow totals by mid-Saturday morning.
Storm timing:
The snow begins in southwestern New England around 8 p.m., then spreads towards Boston between 9 & 11 p.m. From midnight to 7 a.m. the heaviest snow will fall in southern New England. We pick up the majority of our snow accumulation at this time, and we pick up all of the snowfall at the coast and Cape. The snow consistency is like wet cement, with all of the warm air loaded in with the snow.
We mix over to sleet and rain Saturday through noon in southeastern Massachusetts and at the coast. Then a burst of snow returns as cold air wraps in from the north at noon time. The snow will accumulate inland, but only on grassy and untreated surfaces near the shore. The roads will be fine due to the pavement temps staying warm with the higher March sun angle. The snow tapers west to east Saturday afternoon.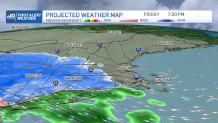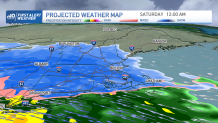 Snow Totals:
Most of the accumulation is overnight for southern New England with Boston getting 2-4" of sloppy, slushy snow. A coating to 2" will be along the south shore, Cape Ann, Cape Cod & islands. The upper Cape will see about 2-4" and that swath is into southeastern Massachusetts, southern Rhode Island and southern Connecticut and also the North Shore. Around 4-6" of snow falls just west of Logan airport, out to 495. Northwestern suburbs see 6-8" and in the Merrimack Valley, with 8"+ in southern Vermont, New Hampshire and interior Maine. Stay tuned as we fine-tune the snow map over the next 24 hours.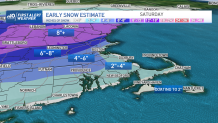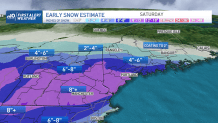 Wind:
Peak gusts will be Saturday around daybreak. Winds will be from the east, 40-60 mph at the coast, up to 40 mph inland and in higher elevations. This means that there will be isolated to scattered areas of damage or outages with the shear strength of the wind on the outer Cape. And some damage in higher terrain with the amount and weight of the snow and the 40 mph gusts.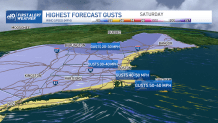 Coast:
We are not concerned with coastal flooding since tides are astronomically low. Waves will be 10-15 feet offshore during Saturday afternoon with an east wind. There may be some beach erosion and splash over along the sea walls.