Temperatures on Saturday afternoon were reaching the lower 40s thanks to a southwest flow and efficient sunshine. The wind wasn't as strong anymore so the wind chills remained in the upper 30s -- not bad for the coolest weekend day.
Sunday welcomes milder air along with more clouds and moisture. This will set up the stage for the late Sunday and early Monday showers clipping over the south and southeast.
Highs Sunday will still manage to reach the upper 40s to near 50s.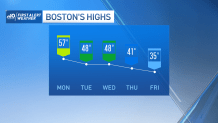 Monday afternoon will remain above average and will see a boundary crossing from north to south moving in a few more scattered showers in the evening.
The next chance for mountain snow is Tuesday evening, rain will take the central and southern half of New England.
Thursday is when we get to track a potential switch of rain to wintry mix for a big chunk of central New England. Some snow may also come in the back edge of the system as we make our way through Friday.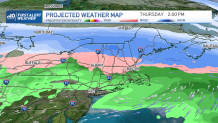 Highs will remain above average through Wednesday… Thursday will begin a transition from lower 40s to mid-30s by Friday. Another widespread system may bring more snow into the region during our following weekend.