A pronounced sea breeze is keeping coastal communities in the upper 40s, while inland towns may see temperatures climbing as high as the lower 60s.
Clouds are also on the rise Wednesday night, with the chance of showers developing across Rhode Island and southeastern Massachusetts around and after midnight. A few more showers will spread across Vermont with sleet and snow in higher elevations, mostly snow will travel north of Maine early Thursday.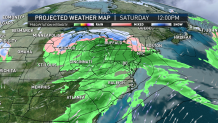 Another round of showers pushes in, scattered in form, around mid to late morning in the upper end of New England, some sprinkles may linger into eastern Massachusetts. Other than that, a wider range of showers moves in by the mid-afternoon lasting through Thursday night. Some rumbles of thunder can't be ruled out along the south and southeast coast.
Friday features a dry but mostly cloudy afternoon with highs that remain in the 50s again. The entrance of a cold front Friday will drop temperatures by Saturday, highs will top out in the lower 40s, rebounding nicely into the 50s by Sunday.
Sunday is likely to keep southern New England dry but the states of Vermont, New Hampshire and Maine will see rain, sleet and snow. That snow line is likely north of the lakes region with higher elevations looking at a few inches of snow. The white mountains are likely to see up to 6 to 8 inches, Green Mountains may remain in a 2 to 4 inch range, isolated spots up to 6 inches.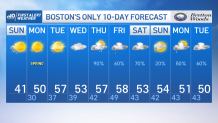 In the 10-day forecast, temperatures next week trend for a seasonable spring feeling, highs in the upper 40s to lower 50s, right where we should sit by this time of year. The chance of showers goes up on Monday night and into Tuesday.