As our storm keeps pushing away into Nova Scotia now, it's spinning in a few bands of snow showers that remain scattered mostly through the hilly terrain. A few flakes could slip through southern New England along with variable cloud coverage, but won't accumulate. Highs will reach 40 degrees Wednesday afternoon, but as the wind gusts over 40 mph, it will feel like the 20s through lower 30s throughout the entire day across the six states.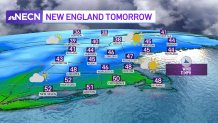 Jumping into Thursday, our skies will clear out early morning and a few more clouds will sweep through in the afternoon. Highs will still make it to the upper 40s and the wind is not going to be nearly as strong as it is Wednesday afternoon. The wind direction will slowly shift out of the west southwest, allowing milder air to swift in as a high pressure system stalls to our south.
Friday will start off nice and dry but a new disturbance is looking to bring showers across the region. These showers are scattered across western New England at first and then will likely stay far south with most of the region drying out soon as a cold front pushes in drier air along cooler temperatures.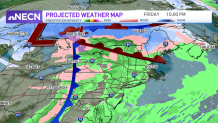 Highs on Saturday will still be mild in the upper 40s, but the cold front Saturday evening will keep a cold stage for Sunday highs will remain in the upper 30s to lower 40s. Next week welcomes milder temperatures with highs in the upper 40s.