Our midweek chill, courtesy of a combination of cloudy skies and an east-northeast wind, is making Wednesday feel more like winter than spring. High temperatures were already set prior to dawn as temperatures fall and now remain stalled at 40 to 45 degrees for many, and in the 30s for northern New England.
Rain isn't a big feature for our Wednesday, with only sprinkles from time to time, though Wednesday evening will feature expanding sprinkles and light showers. Then, overnight Wednesday, we'll add areas of fog to southern New England with a light and variable wind.
Thursday dawns equally gloomy with passing showers, areas of fog and patchy drizzle near the coast that breaks up gradually as a southwest wind begins transporting new, milder air into New England from the south and west. The change in air is dramatic – Wednesday saw morning temperatures ranging from nearly 80 degrees in St. Louis to subzero temperatures in Quebec – and the sharp warm front marking the leading edge to the warmth will mean a tight difference between highs in the 50s Thursday, expected for northern and central New England, and 70s for interior southern and western New England.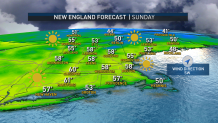 The transition zone from Boston through northeast Massachusetts into southern New Hampshire is a tough forecast, with our expectation that cool air will hold from the North Shore to the New Hampshire Seacoast, but spots further inland will rebound.
After a passing shower or two, Thursday evening brings a more focused round of rain and perhaps embedded thunder with a cold front that will clear New England Thursday night, leaving dry and crisp air on Good Friday with a gusty west-northwest wind to 40 mph at times, making highs in the 50s feel like 40s.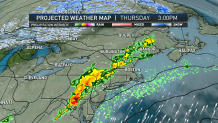 Crisp air continues Saturday with sunshine, but the wind will be markedly lighter, then Easter Sunday brings a great opportunity to wear "Easter Best" outfits, as sunshine couples with dry air to bring rebounding temperatures from the 30s in the early morning to 55 to 60 by day's end.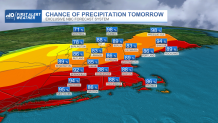 Next week, New England looks to enter an extended stretch of mostly dry weather in our exclusive First Alert 10-day Forecast, with the chance of rain showers continuing to drop but not entirely eliminated from next Tuesday, then rebounding temperatures expected later in the week – all of which should promote growing brush fire danger, new types of tree pollen, but a nice stretch of spring weather.