We've only seen 1" of snow so far in Boston this winter season - which puts us just under a foot behind the climatological average (12.3" for the season to date). This exact time last year, we were in a very similar scenario before receiving an 11.7" snowstorm (Jan. 7, 2022) followed by the second largest January snowstorm in Boston's history with 23.6" (Jan. 29, 2022). And we ended up with 54" total for the season.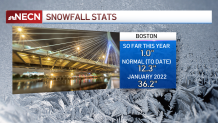 And while our winters as of late have certainly been trending warmer on average and seemingly shorter in length due to climate change, New England is still New England - meaning blasts of cold air and an active jetstream pattern are certainly still going to occur from time to time. The point? There is still plenty of winter to go. We'll see a few festive snowflakes over the next few hours in the city as the back edge of precipitation tracks eastward, ending around 5 p.m.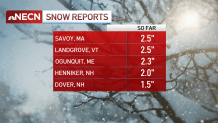 Meanwhile in parts of western, central and northern New England, roads are snow-covered and slick where untreated as a widespread 1-3" has fallen in many areas, particularly with elevation.
Temperatures drop below freezing tonight, so slick spots will develop on untreated roads. Tomorrow brings a shot of chilly air accompanied by plenty of clouds with a few flurries and sprinkles – scattered snow showers in the mountains – and highs around or just over 40, while Sunday the cold but dry air from Canada is reinforced in New England, meaning more sunshine but colder daytime temperatures in the upper 30s.