Wednesday is about as quiet as spring days come in New England – sunshine, mild temperatures after a cool start and a gentle breeze that may swing to a sea breeze for some coastal communities by day's end.
Of course, all the trappings of dry spring weather come with the sunshine: an astronomical pollen count with nearly every tree pollen except pine, a high brush fire danger and a very high UV Index, meaning sunburn is pretty easy to come by with prolonged exposure if sunscreen isn't used.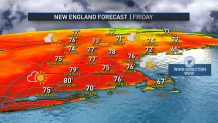 The wildfire smoke thousands of feet above our heads, from Western Canada wildfires, has thinned somewhat but still adds a bit of extra color to sunrise and sunset, and a slightly hazy appearance to the sky, though remains too high in altitude to impact air quality. Although the sky will be clear Wednesday night, milder air will keep temperatures from dropping as much as they have the last couple of nights, bottoming out in the 40s for many, rather than widespread 30s.
This sets a higher starting platform for temperatures Thursday, expected to rebound to around 80 degrees under sunshine and building, puffy, fair weather clouds during the afternoon ahead of a jet stream level disturbance aloft – and a scattered sprinkle or shower is possible after 3 p.m. Thursday afternoon into early evening. A similar setup follows on Friday: Around 80 degrees, building midday and afternoon clouds and a disturbance that may deliver a scattered late afternoon to early evening shower, though this time a weak cold front at the surface arrives from the northwest.
The cold front is an important player in the forecast as it slows over southern New England into Saturday, because while the bulk of rain showers are expected to miss well to the south Saturday, our First Alert Team has added the chance of a few pop-up showers to the Saturday midday and afternoon forecast with the slow cold front still in southern New England.
Local
In-depth news coverage of the Greater Boston Area.
By Saturday night, the front clears to the south and opens the door to fresh spring air for a dry and cooler Mother's Day in the 60s. At this point, it looks like 60s to around 70° hold steady in our exclusive First Alert 10-day forecast extending through next week.