A sunny and pleasant day for Monday, but a northeasterly wind will make for much cooler temperatures near the water. Highs will range from around 60 degrees, right on the ocean to near 70 degrees for MetroWest, and particularly Worcester County.
Tuesday will feature a similar setup with lots of sunshine, and a difference in temperature from east to west.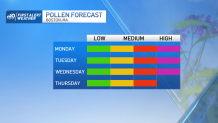 Coastline highs in the lower 60s, inland locations closer to 70.
Wednesday, is milder and mostly sunny to start ahead of a cold front. Highs will be in the lower and middle 70s, with more clouds by late in the day. Some rain is possible very late in the evening into Thursday morning, as a cold front passes through. By the morning commute Thursday, rain will be gone, and the sun makes a quick return.
With breezy conditions, it will be much cooler for Thursday, with highs in the lower 60s. Mostly sunny skies for Friday, highs in the middle and upper 60s. The early call for the holiday weekend, calls for mostly cloudy skies, and a good chance for rain. Temperatures will moderate into the lower 70s.