We're looking forward to a mostly sunny start to Monday, with temperatures quickly climbing into the 50s by afternoon. Clouds will collect throughout the second half of the day, and rain will eventually arrive for the late evening.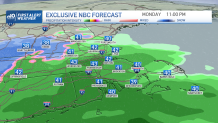 Rain continues Monday night into Tuesday, with wet snow for elevated areas in the interior. The Berkshires, Worcester Hills, Green and White Mountains could see 2 to 4 inches of snow accumulation. Rain and mountain snow wind down Tuesday afternoon. Highs will be in the middle 40s.
Wednesday will be partly sunny, and breezy, with highs around 50. Thursday is the Red Sox home opener, and skies should be partly cloudy. An area of snow showers passes through Vermont and New Hampshire, but at Fenway Park, conditions will be dry and chilly, with highs in the middle 40s.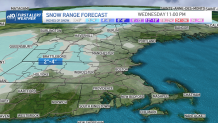 Friday is mostly cloudy, with late day rain. Highs will be in the lower 50s. Saturday is rainy, but very mild. Highs will be in the lower 60s. It'll be cooler, but mostly sunny for Sunday. Expect a gusty breeze, and highs in the middle and upper 40s.