What a change! A beautiful sunny afternoon hugs us with temperatures in the 50s.
If traveling, keep in mind the wind will gust up to 40 mph at times in Worcester & Essex county as well as parts in southern New Hampshire, drive carefully.
Rain free, we'll remain enjoying fair skies through tomorrow morning. The chance of showers will return Monday evening, so you'll begin to see the increasing clouds on the second half of the afternoon Monday.
Otherwise, temperatures will still reach the 50s as we kick off the work week. Our temperatures don't fluctuate too much after, highs will range in the upper 40s Tuesday through Thursday and rebound to the 50s by Friday.
The chance for showers will come several times this week but they mostly pop late at night or early AM… with the exception of Friday where the rain may reach us as early as midday. With a warm front pushing in Saturday, temperatures make it to the upper 50s tagging along showers.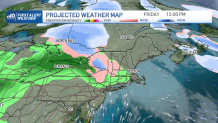 Meanwhile, The Red Sox Home Opener will be doing good with seasonable temperatures and a dry/bright afternoon.