Wednesday is set to be a beautiful day. Expect bright sunshine and temperatures in the middle 50s. Winds are out of the southwest, and may get a bit gusty at times.
Wednesday night, into early Thursday, an arctic cold front will move through the area. We can expect strong winds, and a brief, potent shot of snow or rain that could be accompanied by thunder. Little or no snow accumulation is expected, but visibility will be reduced as the front proceeds through. Temperatures will drop quickly from the 50s into the 30s by the Thursday morning commute.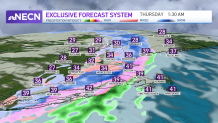 By the commute, the front will be long gone, and sunshine will return. Thursday is also opening day for the Red Sox. Expect cold conditions throughout the day, with a gusty wind and highs are around 40 degrees. Wind chills will make it feel like the lower 30s all day long.
On Friday, rain arrives later in the day, temperatures are around 50. Saturday is very mild, with scattered showers, and even some thunderstorms likely in the afternoon. Highs are in the lower 60s.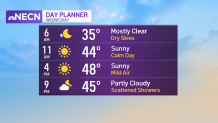 Sunday is sunny, but much cooler. Highs will be in the upper 40s, with sunshine, and a gusty wind. Monday is mostly sunny, and pleasant. Highs in the lower and middle 50s.