The weather pattern remains similar day after day this week, as we're influenced by an upper level low rotating over the Canadian Maritimes. This low swings in waves of light precipitation and clouds from the northeast. Also, we keep a gusty northwest wind around through Thursday.
Wednesday and Thursday again brings us a gusty northwest wind and temps around 40 degrees. Wind chills will be around 30 degrees through the days, with it feeling like the 20s up north. Clouds will again be around and a wave of a light wintry mix spins in from the northeast across northern New England and eastern Massachusetts on both afternoons. A sprinkle or shower passes by eastern Massachusetts during the daytime, and flurries to mountain snow showers continue.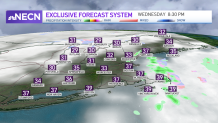 Friday is our best day of the week with early sunshine and highs in the mid 40s as we prepare for a system this weekend.
The system on Saturday into Sunday looks more like a near miss, with the storm trending further south, but our exclusive NBC forecast system has a very high chance for precipitation in southern New England.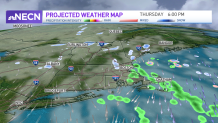 The low pressure system heading across the Great Lakes will pass just to our south Saturday, and this means we are in the cold section of this storm. The wind will be gusty from the northeast, and mainly rain showers will be around. Rain since the precipitation develops during the daytime highs in the upper 30s.
There will be some gusty wind southeast, nothing damaging. And the waves heights will be slightly higher, but not expecting coastal flooding. Details are still coming together, so stay tuned to the First Alert weather team on timing and track.
As we spring forward one hour on Saturday night into Sunday morning, we have a sunnier day Sunday with highs around 40. Then another storm system develops for Monday into Tuesday, brining us a mix to rain as temps stay again too mild for snow.