Mild air moves in for Wednesday ahead of a cold front. Beneficial rain is possible, but mainly for northern New England, as the front slides south throughout the afternoon.
Highs will generally be in the middle and upper 70s, with cooler readings near the shoreline. Rain moves into the Boston Metro area around dinnertime.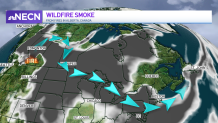 Thursday is much cooler and skies will go from partly cloudy to mostly sunny. Highs will be in the middle 60s with a northwest wind making it feel cooler.
Friday is mostly sunny and seasonable. Highs will be in the upper 60s. Saturday is mostly sunny, mild and very nice! Highs will be in the middle 70s.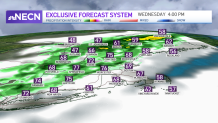 A system will stay to our south for the majority of the holiday weekend. As a result, all three days should be dry. A minimal chance for showers is possible late on Sunday evening, and perhaps on Monday, but both chances are 20% or less.
Otherwise, expect temperatures near 80 degrees on Sunday and Memorial Day, with partly cloudy skies. Rain becomes possible Tuesday, Wednesday and Thursday next week, as temperatures hold near 80 degrees.