One storm down, and a couple of very weak ones to ripple through. Then, our stormy pattern culminates with a strong system — complete with the whole winter shebang of snow, ice and rain — to finish off this round of California storms.
I call them that because that's where they really made their mark. Ultimately, they originated over the Gulf of Alaska, crossing the entire country before making a pass through New England. So far, without a replenished supply of cold air, we've seen them turn from snow to mix or rain. This final storm will be no different.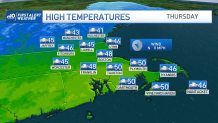 In the meantime, we have clouds increasing Wednesday, then thinning Thursday. We'll be interrupted by a few showers overnight into Thursday morning. With skies breaking Thursday, AND some leftover mild air, many towns and cities will make a run at 50 degrees. It doesn't stand up to the recent warmth we saw in February, but it's the warmest we'll see in the 10-day.
Right now, the timing for the wintry weather is slated for late Friday night and much of the day Saturday. We could see 2 to 4 inches of snow before changeover, but with the tricky snowfall forecasts of late, we'll hold of on specific amounts. Either way you slice it, the storm is not a major snow maker.
Finish to the weekend is brighter, and with the pattern shifting next week, drier times lie ahead.