With mild air poised to continue through a spring-like First Alert 10-day forecast, there are only a few times when the weather will resemble winter at all: a brisk wind chill Monday, snow showers overnight Monday night and a day of temperatures closer to normal on Saturday.
Otherwise, not only will temperatures be mild, but our First Alert team is predicting record warmth in Boston this coming Thursday, when the record high of 60 degrees set in 1910 is likely to be surpassed. Until then, a large ocean storm southeast of New England brought morning rain to Cape Cod and the Islands but continues to drift away from New England, taking the rain with it, but leaving a northeast wind gusting to 30 mph at times Monday, and 35 mph on Cape Cod, which will team with highs in the 40s to create a wind chill value of 35-40 degrees at the warmest time of Monday.
Sun won't provide much of a boost beyond some splashes of rays between clouds in eastern New England, though central and western areas see more pronounced breaks on this milestone day in which the Boston area surpasses 10 and a half hours of daylight for the first time since Oct. 28. By nightfall, our next disturbance will be racing in from the west after dropping scattered snow showers on the Great Lakes, and is likely to do the same here at home overnight Monday night, from west to east, Monday late evening to predawn Tuesday with a coating of snow for some and an inch or two in the mountains of Vermont, New Hampshire and Maine.
The snow showers will be gone by Tuesday with little impact for most and while the air arriving during the day will technically be cooler by nature, the increased sun under a fair sky and a northwest breeze sloping down off the mountains and hills will bump temperatures a few degrees higher than Monday was.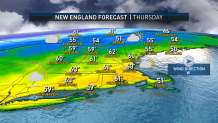 An approaching warm front Wednesday morning will deliver a few rain showers at the bus stop and morning commute ahead of late day breaks of sun that mark the firm transition to downright warmth for this time of the year: It'll be in the 50s Wednesday afternoon and over 60 degrees for many in southern New England, including the record-setting high temperature likely in Boston.
Even as a slow moving cold front approaches Friday, temperatures should still make the 50s with showers ahead of a one-day shot of air closer to normal this time of year in the middle and upper 30s, with a rapid rebound back near 50 degrees by Sunday and into next week at the end of our exclusive 10-day forecast.
As for any sign of colder air, more typical of February, there are signs that may return off the 10-day, by the end of February school vacation week, though it's early to say just how pronounced that shot of colder air will be at this early juncture.