The warmth snuck in early Friday morning, bouncing temperatures from the 40s to near 50 at the crack of dawn. Now it's time for the sun to go to work.
This key element will be instrumental in pushing us to record highs Friday (60 in Boston), but the gusty winds will try and drag down the cooler air by late afternoon. Some of those gusts will top 40 in the higher terrain of Worcester County, which might be enough for some minor tree damage.
Colder air will settle in for Saturday. Despite full sun, the temperatures only make it to the low 40s. Winds will thankfully back off, but there's still a stiff breeze early on.
Sunday sees a sizeable storm form off the Mid-Atlantic and spin far off Nantucket on Monday. This may be enough for some showers on Cape and Islands early Monday, but this could have had major implications for us if it jogged a bit farther west. For the record, this is the second major nor'easter we've missed in the last week. Talk about some late winter luck!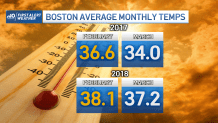 So far, winter has been less than wintry around these parts. This has no bearing on the weather next month. In fact, in both 2017 and 2018, March was colder than February! (And in 2017, March was colder than January!!) As a result, we'll tread lightly on any proclamations that "winter is over".