Temperatures were up to near 50 degrees Saturday afternoon and an even milder afternoon is planned for Sunday. We won't get rid of the wind that will gust over 35 mph and over 30 mph Sunday afternoon.
Highs will surpass the 50 degrees in the warmest spots this Sunday despite of the cloud coverage increasing for much of the area.
The chance for showers increases late in the afternoon Sunday, meaning that the whole morning and mid afternoon will welcome outdoor activities along dry conditions. A few sprinkles may begin to crawl in around 4:30 p.m. west advancing east with showers ending by 11 p.m.
The north country will watch for a breezy afternoon with snow showers, the chance for a snow squall not ruled out.
Driving through the mountains will become more difficult Sunday as more widespread snow covers the northern mountains and returns Monday.
Accumulating snow by the end of Monday night may add up to 4 inches and over 6 in a few spots.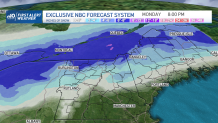 Next week we'll see colder temperatures from Wednesday onward. January 2nd into January 6th will dip highs well below average.
Temperatures will range from the teens to the lower 20s through the afternoon and overnight lows will dip into the single digits with even colder wind chills.